The Second Friday of each month! 
The series celebrates the rich heritage of African American Musicians with ties to Eastern North Carolina, with artist director, Carroll V. Dashiell, Jr., house band and a special monthly guest artist. The music series is part of the African American Music Trails of Eastern North Carolina, a project of the North Carolina Arts Council, an agency of the Department of Natural & Cultural Resources and the counties of Edgecombe, Greene, Jones, Lenoir, Nash, Pitt, Wayne and Wilson. There is also a guidebook and a website, www.AfricanAmericanMusicNC.com.
Cost: Free
Location: Emerge Gallery & Art Center, 404 S. Evans Street, Greenville, NC 27858
Artistic Director: Carroll V. Dashiell, Jr.
First Set: 7:00pm, Second Set: 8:30pm
Next Concert Date: November 8th
Marshall Keys

A native of Washington, DC, Marshall began playing in the DC Youth Orchestra Program, then flirted with Jazz Studies at Howard University, all the while gigging with the notorious Blackbyrds, and the great blues artists Jimmy McGriff and Jimmy Witherspoon. He has worked with many of the world's greatest musicians including: Jimmy McGriff, Jimmy Scot, Lionel Hampton, Stevie Wonder, Clark Terry, Jimmy Heath, Groove Holmes, and Jimmy Witherspoon.

He's played the East Coast Jazz Festival in Washington, DC as well as festivals in Germany, Ireland, Holland, Mexico, Indonesia, Africa, and the Virgin Islands. He was a featured performer on the 17th Annual Norway Jazz Cruise. Marshall has enjoyed two collaborations with Mexican jazz pianist Juan Jose Calatayud at the Mexican Cultural Institute in Washington, DC and at the Museum of Latin American Art in Long Beach, California.

Marshall has received a National Endowment for the Arts grant and was commissioned by the Smithsonian to perform the works of Wayne Shorter. He was a guest performer and lecturer at the Romare Bearden Exhibit at the National Gallery of Art.

Schedule
November 8, 2019 – Marshall Keys, Saxophone
January 10, 2020 – Christie Dashiell, CV, Allyn Johnson, and Jeff Bair
February 14, 2020 –  Mike Friend, Ethnic Percussion
March 13, 2020 – Bill Myers, Piano
April 2020 – ECU Billy Taylor Jazz Festival at ECU
May 8, 2020 – Vaughn Ambrose, Saxophone
---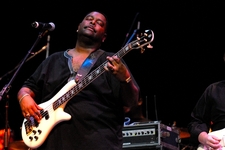 ABOUT CARROLL V. DASHIELL, JR.
Artist Director
The North Carolina Arts Council, Pitt County Arts Council, Greenville-Pitt Convention & Visitor's Bureau has named Carroll V. Dashiell, Jr. Artistic Director of a new series, The African American Music Series. Carroll Dashiell is a native of Washington, DC. A graduate of Howard University, with citations in Who's Who in Music and Down Beat Magazine, Carroll has been recognized for excellence in the music industry as a bassist, musical director/conductor and also as a composer/arranger. Affectionately known as CVD, he has been involved in academia for more than three decades serving as professor of music at the Saint Mary's College of Maryland, University of the District of Columbia and East Carolina University in North Carolina. CVD is the producer and writer of A Tribute to Motown Records, (a stage show and concert that celebrates some of the African-American's cultural contributions to the music industry, staged in the tradition of the famous touring Motown Review) that is selling out theaters and venues nation-wide. In addition to composing, writing and arranging, CVD is continuing performance as jazz bassist and is very humbled to be the Founder and Director of the Dr. Billy Taylor Jazz Festival, named in honor of his mentor.
A special thank you to our sponsors.

| | | | | |
| --- | --- | --- | --- | --- |
| | |    | | |