We will be taking the music series online!
The series celebrates the rich heritage of African American Musicians with ties to Eastern North Carolina, with artist director, Carroll V. Dashiell, Jr., house band and a special monthly guest artist. The music series is part of the African American Music Trails of Eastern North Carolina, a project of the North Carolina Arts Council, an agency of the Department of Natural & Cultural Resources and the counties of Edgecombe, Greene, Jones, Lenoir, Nash, Pitt, Wayne and Wilson. There is also a guidebook and a website, www.AfricanAmericanMusicNC.com.
Cost: Free
Location: Facebook Live at 7pm
Artistic Director: Carroll V. Dashiell, Jr.
Bill Myers featured on September 11th
Check out our past performances here!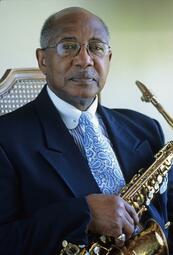 Bill Myers was raised in Greenville, North Carolina, and now lives in Wilson, where he is the Director of the Oliver Nestus Freeman Round House Museum. A North Carolina Heritage Award recipient, he is the founder and director of the famous Monitors, a band that has been performing for nearly 60 years. This jazz, R&B, and funk ensemble has toured with the North Carolina Symphony Orchestra, and was featured at the Smithsonian Folklife Festival on the National Mall in Washington, D.C. Myers is part of a distinguished lineage of saxophone-playing music educators in Eastern North Carolina. His own band director when he was in high school was Bob Lewis. Myers has served as a teacher, principal, and the superintendent of Wilson County schools, all the while following his dream of playing music. A multi-instrumentalist and musical scholar, Myers performs solo, with the Monitors, with Dick Knight as the duet Two of a Kind, and in various ensembles.
---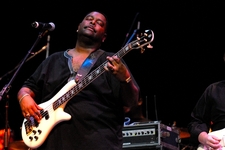 ABOUT CARROLL V. DASHIELL, JR.
Artist Director The North Carolina Arts Council, Pitt County Arts Council, Greenville-Pitt Convention & Visitor's Bureau has named Carroll V. Dashiell, Jr. Artistic Director of a new series, The African American Music Series. Carroll Dashiell is a native of Washington, D.C. A graduate of Howard University, with citations in Who's Who in Music and DownBeat Magazine, Carroll has been recognized for excellence in the music industry as a bassist, musical director/conductor and also as a composer/arranger. Affectionately known as CVD, he has been involved in academia for more than three decades serving as professor of music at the Saint Mary's College of Maryland, University of the District of Columbia and East Carolina University in North Carolina. CVD is the producer and writer of A Tribute to Motown Records, (a stage show and concert that celebrates some of the African-American's cultural contributions to the music industry, staged in the tradition of the famous touring Motown Review) that is selling out theaters and venues nation-wide. In addition to composing, writing and arranging, CVD is continuing performances as a jazz bassist and is very humbled to be the Founder and Director of the Dr. Billy Taylor Jazz Festival, named in honor of his mentor.
A special thank you to our sponsors.

| | | | | |
| --- | --- | --- | --- | --- |
| | |    | | |