---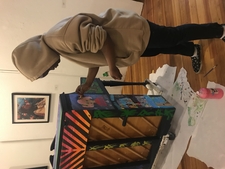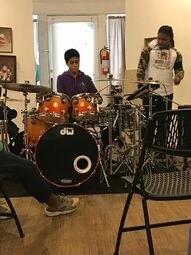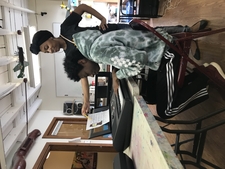 The Youth Public Arts Project is an outreach program for youth, in Pitt County, that provides arts education programming that has a positive impact on our community, to express themselves through artwork, and to build teamwork, social, and interpersonal skills through the visual arts. The participants work with professional artists and musicians to create various public art projects and learn about the rich heritage of African American Music. We were able to expand the program with a music component in 2017 because of the NC Arts Council TAPS program.
This project is targeted towards youth from 8 - 17 years of age, who are currently living in Pitt County, experiencing any difficulties in their lives and would benefit from positive expression through art. Participants can be referred to the program by school counselors, teachers, school social workers, court counselors, private therapists, or other community professionals.
---
Objectives
To create a positive visual impact within the community
To facilitate self-expression through artwork
To interact with other individuals in a constructive way, building teamwork and interpersonal skills
To build work ethic and self esteem
---
Past projects include murals at the Drew Steele Center, for the Humane Society, on the previous Taff Building, Evans Street Fence, along Merchant's alley, banner designs for Greenville Area Transit, and many others.
This project is a $24,000+ project, funded through the NC Arts Council TAPS program, grant funding, corporate sponsorships, and individual donations.
How can you help? We are always looking for businesses and individuals to sponsor lunches for the Saturdays that we meet. Please contact paula@pittcountyarts.org if you are interested!
Do you know someone who would benefit from the Youth Public Arts Project? Click here to apply!
---
Past Public Art Projects Include:
 

Planter Bench

Location: Previously in front of Emerge Gallery, 404 S. Evans Street, Greenville, NC.
 

"Plant the Arts, Grow a Community"

Location: Previously on the Taff Building, where The Boundary is now.
Evans Street Fence

Location: This fence bridged Cinnamon Indian Cuisine and Garry's Skin Grafix in Downtown Greenville. The fence was where the courtyard to the parking deck is now.
 

Forest Scene Mural

Location: Behind Emerge along Merchant's Alley.
 

Sunday in the Park Mural

Location: In the multi-purpose room at the Drew Steele Center, 1058 S. Elm Street, Greenville, NC.
Soda Can Panels

Location: Corner of Jarvis & 3rd Street
About: In 2014/2015 we kicked off this project at the first Art + Community event. We took the project to several public events to invite members of the community to participate and the Youth Public Arts Project saw the work to completion.
 

Banners on Hotel Fence

Location: This is the construction fence used by the hotel that is being built in Downtown Greenville along Evans Street between 5th and 4th street.
Instructors
Haley McElroy

Haley McElroy graduated from Appalachian State University with a BFA in Art Education and a BA in Art Education. Since Graduating she has taught elementary art for 5 1/2 years. She has lived in Greenville, NC, for the last two years and excited to be teaching summer art camps for my second year. In her own studio, she enjoy constructing figural wall pieces and surface decorating simple functional forms. In her free time she enjoys spending time with my partner, AJ, curling up on the couch with their cat, Little Man, and getting lost in a new show.
 

Rachael Howard

Rachael Howard is a native of Washington DC, but currently resides in Wilson, NC. She graduated from East Carolina University May 9, 2014 with a Bachelor of Music Degree, concentration in Jazz Vocal Performance. While attending ECU, Rachael was a member of the ECU Jazz Vocal Ensemble and served as lead vocalist her junior and senior year. She also sung with ECU Gospel Choir all four years and served as chaplain her freshman, sophomore, and junior year. During her senior year, she was the director for the ECU Gospel Choir. She has also worked as a piano and voice instructor at the Wright School of Music in Greenville, NC in 2014. Most recently for the past four years, Rachael has been the Chorus director at Southern Nash Middle School in Springhope, NC, teaching grade levels 6th, 7th, and 8th. She also created and directed the SNMS Elite Chorus (Honors Chorus) 2014-2018. The Elite Chorus performed at various events throughout the community including the Wilson County Commisioner's Meeting, Mudcats Baseball Games, Christmas at Springhope, and Christmas in Middlesex. The Elite Chorus also competed in the WRALFM Christmas Choir Radio Competition and made the semi-finals in 2016 and 2017. In addition, she directed a youth vocal group that performed at a past Greenville Grooves event. She also is the lead mentor for the youth praise band at Raleigh Road Baptist Church. This summer she worked with the Boys and Girls Club of the Tar River Region through NRMPS as the music instructor for the program, teaching at Cedar Grove Elementary, Bailey Elementary, and Southern Nash Middle School. She is a vocalist, private vocal coach, and beginning piano instructor. Rachael loves performing and teaching young people, giving them motivation to achieve their dreams!