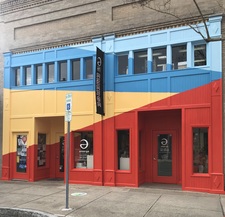 The Pitt County Arts Council at Emerge was founded in 2000 as Emerge Gallery. It has since grown in its role to being the local arts council for Pitt County, as well as in its size encompassing over 8000 square feet in a historic building in the heart of Uptown Greenville.
PCAC at Emerge began as a gallery founded by Holly Garriott, Christina Miller and Leah Foushee, three ECU students who saw a need for community based arts organizations in Greenville's downtown area, as well as an arts organization that could serve as a learning lab for ECU students.
Don Edwards, local businessman and arts supporter, custom renovated a historic building for Emerge and donated it rent-free for over 2 years. In 2005, Emerge expanded into a full Community Art Center with classes for adults and children in pottery, metals, painting, textiles and photography.
In 2009, Emerge became the Pitt County Arts Council focusing on supporting all of the arts throughout Pitt County, working with countywide arts organizations, government entities and Pitt County Schools.