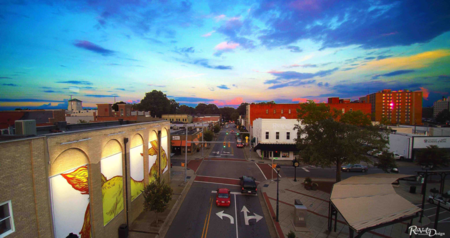 Photo Credit: Phillip Bryant
Applications Due: August 28, 2021
Project Description
The Pitt County Arts Council, in collaboration with the Civic Arts Committee and invites visual/graphic artists located nationwide to create an original design for the Five Points Archway Public Art Project. The design should have an emphasis on community, innovation, and/or culture.
Artists will create an original design that will be reproduced on large vinyl banners measuring 120 x 204 inches and installed in five archways on the side of Starlight Café located at 104 W. Fifth Street in Greenville, NC. The archways face Five Points Plaza, a parking area that is converted to an events location for popular events such as Freeboot Fridays, Umbrella Market, and PirateFest.
One artist will be chosen and will receive a $2,000 honorarium and the opportunity to have their artwork reproduced on the five banners.
The banners will be on display for 3 years, and then rotated thereafter, as funding permits.
The Civic Arts Committee from the Pitt County Arts Council will manage the application, review process, and will coordinate the selection panel.
ELIGIBILITY
Eligibility is open to visual/graphic artists 18 years or older.
ARTWORK TEMPLATE AND REQUIREMENTS
The selected original designs will be reproduced on five 120" x 204" banners. Any subject matter and design can be proposed, but an emphasis on community, innovation, and/or culture is encouraged.
Each artist may only submit one application with five 120" x 204" designs. This can be one cohesive design broken up into five rectangles, or five different scenes. A low-resolution design of all five panels is required for the proposal. However, the chosen artist will need to supply a high resolution, actual size, vector based file upon acceptance.
Click here to download the archway template!
Applications due August 28, 2021.