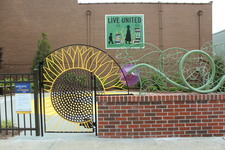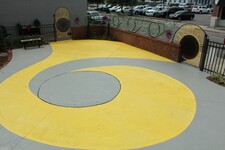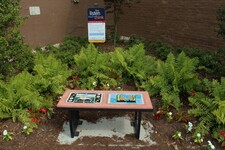 The Live United Courtyard, located on 4th Street between Evans Street and Washington Street in Uptown Greenville, is now open to the public. This creative and inspiring urban park aims to provide education and exercise for children.  
The courtyard is a partnership between many organizations, including United Way of Pitt County, Pitt County Redevelopment Commission, Uptown Greenville, the City of Greenville Public Works, and the Pitt County Arts Council at Emerge.
The sunflower gate sculpture is an interactive work of art created by artist Jim Gallucci.  The vibrant nature themed sculpture includes a sunflower door and morning glories that children can whisper into and hear each other down the vine from a distance. The concrete application features a glittery gold yellow brick road referencing Greenville's nickname "The Emerald City".
Another theme of the park is preparing children to enter school ready to learn. The courtyard is the hub of the Born Learning Trail, similar to an exercise trail, but there are signs that help parents with activities that will in turn help their child develop necessary skills to prepare them for school. "Less than half of Pitt County children are entering kindergarten ready to learn," Jim Cieslar, Former Executive Director of United Way says. "Early childhood development, those first five years of life are the key to turning that around."
For Emerge, the courtyard means a safe and relaxing area for children participating in summer camps and art classes to take a break from the studio in a creative and inspiring space.
It is open all of the time and the public is invited to walk in, enjoy their lunch, read a book, have a meeting, or play hopscotch.