INTUITIVE DRAWING WORKSHOP WITH CLIVE KING
February 23: 10am-4pm & February 24: 10am-4pm
INTUITIVE DRAWING
The Intuitive Drawing workshop will generate large scaled mixed media drawings. It will run for 2 days from 10am-4pm with a break for lunch. You may bring a bag lunch or eat nearby. Day two will include a mini exhibition at Emerge Gallery. Also there is an opportunity to exhibit the final drawing at Mendenhall Student Center for a period after the workshop. Clive King has done previous workshops at Clemson University, which can be viewed at https://www.youtube.com/watch?v=wiXulLI5cn4
Please wear work clothes.
Participants are responsible for bringing the following materials:
-vine and compressed charcoal or black conte
-white chalk or conte
-erasers, various types
-water based paint (acrylic paint or tempera)
-gesso
-brushes (fine art and house paint brushes)
-beverages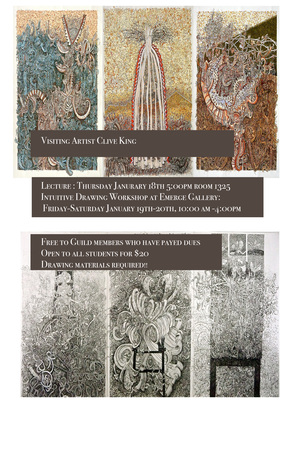 About clive king
I came to the U.S. 1992 to take up the position as Chair of the Visual Arts Department at Florida International University, Miami Florida. Previous to that I was on the full time teaching Faculty and Oxford Brookes University in Oxford England, where I taught contemporary visual thinking, painting and drawing. During all my teaching positions I gave managed to maintain very active career as an artist.In Britain I had exhibitions at galleries such as the Camden Art Center, London, Barbican Arts Center,London. Moma Wales and the Whitworth Art Gallery. Manchester UK In the U.S. I have many one person shows ,including Frost Art Museum,Miami, Miami Urban Studios, Miami Beach, 1708 Gallery, Richmond VA, SouthDakota Museum of Art,Nexus, Philadelphia. I have given talks/presentations a institutions like Royal College of Art, London, Weisman Museum of Art,Minneapolis. Pratt Institute of Art, New York, Kansas City Art institute, School of Visual Arts, New York and many more. For several years I have been running two day intuitive drawing workshops across the country. These are intense, absorbing, experiences, which initially demand a total physical and mental commitment. The first part creates the condition of work, the pace, and the development automatic response, given momentum by the shared experience of the 'group dynamic'. Although the groups are mainly fine art students including performance and time based media, many graphic design, architect, time based media and photography students have found the experience highly worthwhile. The first half involves a series of instructions exploring a range of formal dynamics and the second part explores emotive and symbolic attitudes of expression, while working the students must develop a 'tunnel vision' about their work. This is enhanced by a set of music that helps the student maintain focus and physically engage with the condition they are creating. The final stage of the workshop is taken up with an exhibition of the work in the space. The group selects a hanging committee who designs the show there is usually a preview that evening.
February 23: 10am-4pm & February 24: 10am-4pm
Cost: Student/Faculty Fee (must sign up using ECU or PCC email): $20
General Public Fee: $40